Every year, I look forward to the fall and winter seasons not for the freezing cold weather and the dry skin, but for the awesome fashion styles. This year, you definitely have your cute chunky sweaters and leggings, however, while shopping I have noticed some other, weirder styles that make me say, "WTF." Read on to see some styles and at the end take a poll and choose which styles you liked the most/the least.
1. Slip dress over a shirt.
Okay, I know that the fashion industry is trying to take us back to the 90's with the chokers and suede everything, but I just can't get behind this one. Sure it looks great on the models, but when I picture me or anybody that I know wearing this it just looks… weird. It's not that I don't like the slip dresses or the shirts; In fact, I love them individually. However, the layering just looks too chunky to me.
2. Just a bralette under a jacket.
Okay, seriously, why is this a thing?! I love bralettes, don't get me wrong, but it seems a bit weird to me to JUST wear a bralette without anything else. And it's not that I'm some sexist bitch who thinks all women should be covered head to toe, I just can't see any setting, professional or other, where this would be considered appropriate (unless you live in California or something.) Also, it's FALL and WINTER. As in COLD Fall and Winter. I don't know about you, but when it's 30 degrees I don't really want my boobs hanging out.
3. SUPER thick scarves.
Last time I checked, a scarf is not supposed to cover your entire outfit. I love a good, soft, silky scarf, but I think it's a problem when it can double as a full-sized quilt. For example, look at this. He could be hiding a third arm under that thing for all we know.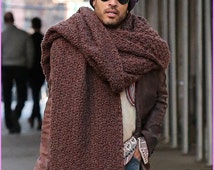 4. Calf-length dresses and skirts.
If there's one trend I absolutely loathe, it's this one. I  think that they are so unflattering, and as a friend eloquently stated, "It looked like you got dressed  in 1930 while you were blind," and I have to say that I agree with her. I think that if you want to wear a long dress, wear a long dress, and if you want to wear a short dress, wear a short dress. But don't go in between. It looks tacky AF.
I know that I have said a lot about my distaste for these "fashion" trends, but if you like something I do believe that you should wear what makes you happy. Additionally, all of these styles can look AWESOME if you style it right and if you can rock it. You do you.
Now, tell me what you think about these styles in the survey below and I will publish the results next week!
Create your own user feedback survey
If the survey doesn't load on this page, here's the link: https://www.surveymonkey.com/r/Q2HPGGM
Photo Sources:
https://img1.etsystatic.com/052/1/6004593/il_214x170.690320495_pm7i.jpg
pinterest.com
http://www.stylishlybeautiful.com/2016/09/trend-report-slip-dress-t-shirt/
http://images.prod.meredith.com/product/0c84d62cd9316a6f1c7702ae1f4878c3/6839638cafaa93544c450eaccbb124b79ec2ec8201bc36047d38cb84e11749ed/m/womens-eileen-fisher-jersey-v-neck-calf-length-dress-size-small-blue